Polyuretánové silentbloky motora a prevodovky
Polyuretánové silentbloky predstavujú alternatívu ku klasickým gumeným silentblokom. Ich použitie sa nachádza hlavne v podvozkových dieloch (ramenách, nápravách či uloženiach) ale nie je nezvyčajné ich použiť aj na pohonné ústrojenstvo (motor a prevodovka). V tomto článku si povieme kedy zvažovať ich náhradu, ich plusy a mínusy a prečo práve polyuretán oproti štandardnej gume, či naopak.
Väčšina silentblokov motora a prevodovky sú pri sériových autách vyrábané z gumy. Po zahriatí (benzínového) motora neprodukujú takmer žiadne vibrácie v kabíne. Tvrdosť gumy fabrických silentblokov motora je teda zvolená tak aby bol komfort dôležitejší ako obmedzenie pohybu ústrojenstva. (s výnimkou vyslovene športových áut). V tomto článku sa s vami podelíme o naše skúsenosti s našimi autami
BMW E36 328i
Bavor s motorom R6 používa na uchytenie dva hlavné silentbloky motora a dva silentbloky prevodovky. Sériové silentbloky motora sú vcelku mäkké, a tým že tieto autá už majú väčšinou niečo za sebou, tým pádom sa veľmi rýchlo sa môže stať, že po pár trackday, slalomoch či driftoch, Vám motor ostane visieť len na nápravnici, kvôli utrhnutým silentblokom (vlastná skúsenosť :D).
RADENIE VS SILENTBLOKY
Ďalší problém nastal, keď sme prešli v BMW na short-shifter s pevnou kulisou, kde bola kulisa radenia pripojená do karosérie a tiahlo pripojené priamo do prevodovky. Tým pádom bol všetok pohyb prevodovky a motora prenášaný do radiacej páky. Ako je vidieť na priloženom videu dole, extrémne vibrácie počas prudkej akcelerácie alebo prudkého brzdenia motor s prevodkou priamo tancovali po celom motorovom priestore. Niekedy sa stávalo, že rýchlosti vyskakovali, dokonca nešli zaradiť. Prvotne sme mysleli, že je problém napríklad s tiahlom, ale o chvíľu bolo jasné, že problém je niekde inde, v silentblokoch motora.Na nasledujúcom videu je krásne vidieť ako páka tancuje pri mokrom závode na semislikoch :D pohyb páky priamo znázorňuje pohyb motora
AKO PROBLÉM VYRIEŠIŤ?
Po rozhovore s kamarátom zo zahraničia, nám bolo odporučené použiť polyuretánové riešenie. Firma DEUTER Motorsport vyrába polyuretán s dvoma stupňami tvrdosti a to 75SHA a 85SHA.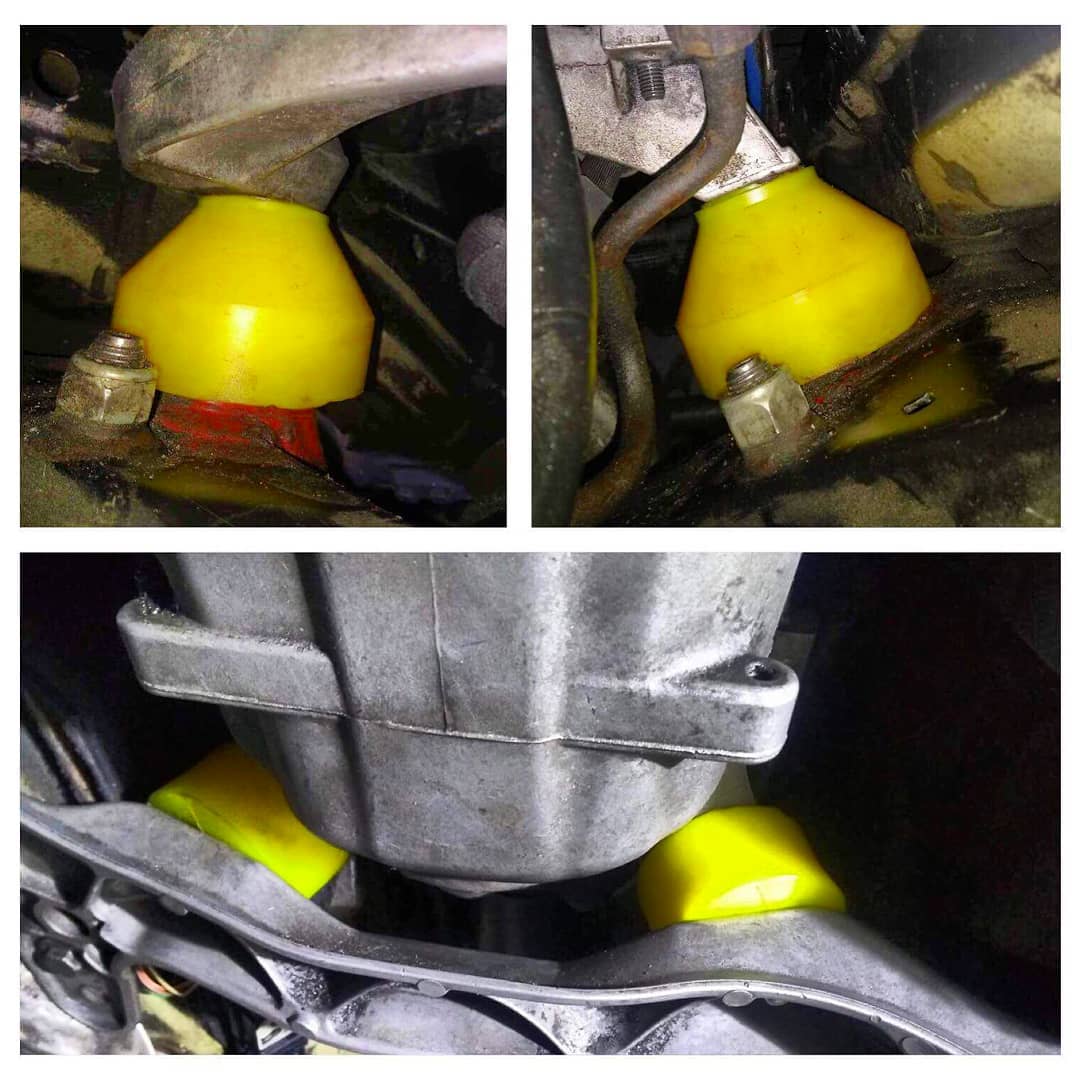 Rozhodli sme sa pre tvrdšiu variantu ( nebudeme troškáriť :D), kedže auto sa používa najmä na jazdenie autoslalomu. Už prvé kilometre po inštalácií ukázali veľkú zmenu, radenie rýchlostí bolo výrazne presnejšie rovnako pri akcelerácií ako aj pri brzdení. Celkovo auto ako keby stuhlo, a zrazu nebol cítiť žiadny pohyb pohonného ústrojenstva. Tým pádom zmizli úplne všetky problémy s radením (viď. priložené video). Síce stále je tam možné vidieť ešte menšie "tančeky" radiacej páky, ale je to podstatne lepšie ako predtým.
Veľmi príjemná zmena sa týkala aj komfortu. Keďže radový 6 válec v BMW je neskutočne vyvážený motor z hľadiska chodu, neprejavili sa žiadne pekelné vibrácie do karosérie, práve naopak. Motor v našej E36 má o niečo zdvihnutý voľnobeh zo 650 otáčok na zhruba 950 otáčok (kvôli odľahčenému zotrvačníku a ostrejším vačkám) a aj to zjavne prispelo k tomu, že žiadna strata komfortu, či podskakovanie auta na voľnobehu sa nekonalo. Celkovo pohyb motora a prevodovky v motorovom priestore bol obmedzený na takmer nulový.
PRE MENEJ KOMPROMISNÝCH
Pre fanúšikov menej kompromisných riešení na BMW odporúčame použiť silentbloky motora STRONGFLEX BMW E36,


kde je silentblok zložený s hliníka a polyuretánu.

Strongflex silentbloky sú ešte o niečo tvrdšie nežsilentbloky motora značky Deuter Motorsport.


Pre tých úplné nekompromisných je tu ešte k dispozícii osadenie motora a prevodovky na čisto hliníkové silentbloky. Toto riešenie odporúčame len na čisto závodné autá, kde je potrebný naozaj nulový pohyb pohonného ústrojenstva.
NAŠE ODPORÚČANIE
Zhrnme si teda silentbloky motora a prevodovky DEUTER motorsport na BMW E36:
Výrazne obmedzenie pohybu motora a prevodovky (vhodné na aplikáciu shortshiftera s kulisou na pevno)

Minimálna strata komfortu

Robustný a tuhší pocit z jazdy

Presnejšie radenie aj pri prudkom brzdení či akcelerácií

Výborný pomer cena / výkon
Ak ste teda ochotný obetovať minimum komfortu a hľadáte nutné zlepšenie pôžitku z jazdy, je to tá správna voľba. V aute ich mám už druhý rok a neviem si ich vynachváliť, rovnako aj zákazníci, napr. na BMW E46 M3 alebo na BMW E30 M50 Turbo.
Citroen Saxo VTS 1.6 16V R4
V prípade nášho druhého auta, Citroenu Saxo VTS, je problém pohybu motora a prevodovky o niečo zložitejší. Keďže je motor uložený priečne, auto má v podstate tri silentbloky pohonného ústrojenstva (motorový, prevodovkový, spodný kyvný silentblok).
AKO TO PRI VÝROBE "NE"SPACKAŤ
Sériové Saxo (aj verzia VTS) bolo robené skorej ako mestské a preto originálne silentbloky nie sú ideálne na športovú jazdu. Nie len, že sú prílíš mäkké a motor lieta ako handra, ale ešte aj samotné uchytenie motora je "francúzsky poddimenzované". Hlavný silentblok motora je uchytený skrutkou M8, ktorý pri ostrej jazde nie je veľký problém utrhnúť.
Z NÁKUPNÉHO KOŠÍKA NA ŠPORTOVCA
Keďže radový 4valcový motor nie je tak vyvážený z hľadiska chodu ako radový 6válec, odporúčame na športovú jazdu použiť hlavné silentbloky motora a prevodovky z tvrdenej gumy.
Naše auto má oproti sériovému motoru použité ostrejšie vačky CATCAMS, preto je voľnobeh v celku nestály(video). Aj napriek tomu, sme sa rozhodli použiť silentbloky BAKER BM v špecifikácií rally Group N, keďže použitie sériových silentblokov na športovú jazdu je absolútne nevhodné. Tie výrazne zredukovali pohyb motora. Za studená je motor síce utrasený a prenáša menšie vibrácie do palubnej dosky, no keď sa motor zohreje, vibrácie sa dostanú na akceptovateľnú úroveň a myslím si, že žiadnemu nadšencovi športovej jazdy by neprekážali. Tým, že náš motor ma spomínané ostrejšie vačky, verím, že vibrácie pri sériovom motore by boli ešte menšie. Jedno s veľkých výhod okrem redukcie pohybu je, že silentbloky používajú na uchytenie skrutky M12 (prečo asi...). Tým pádom po zväčšení diery v držiaku motora na zodpovedajúci priemer, problém s lámajúcou skrutky úplné zmizol.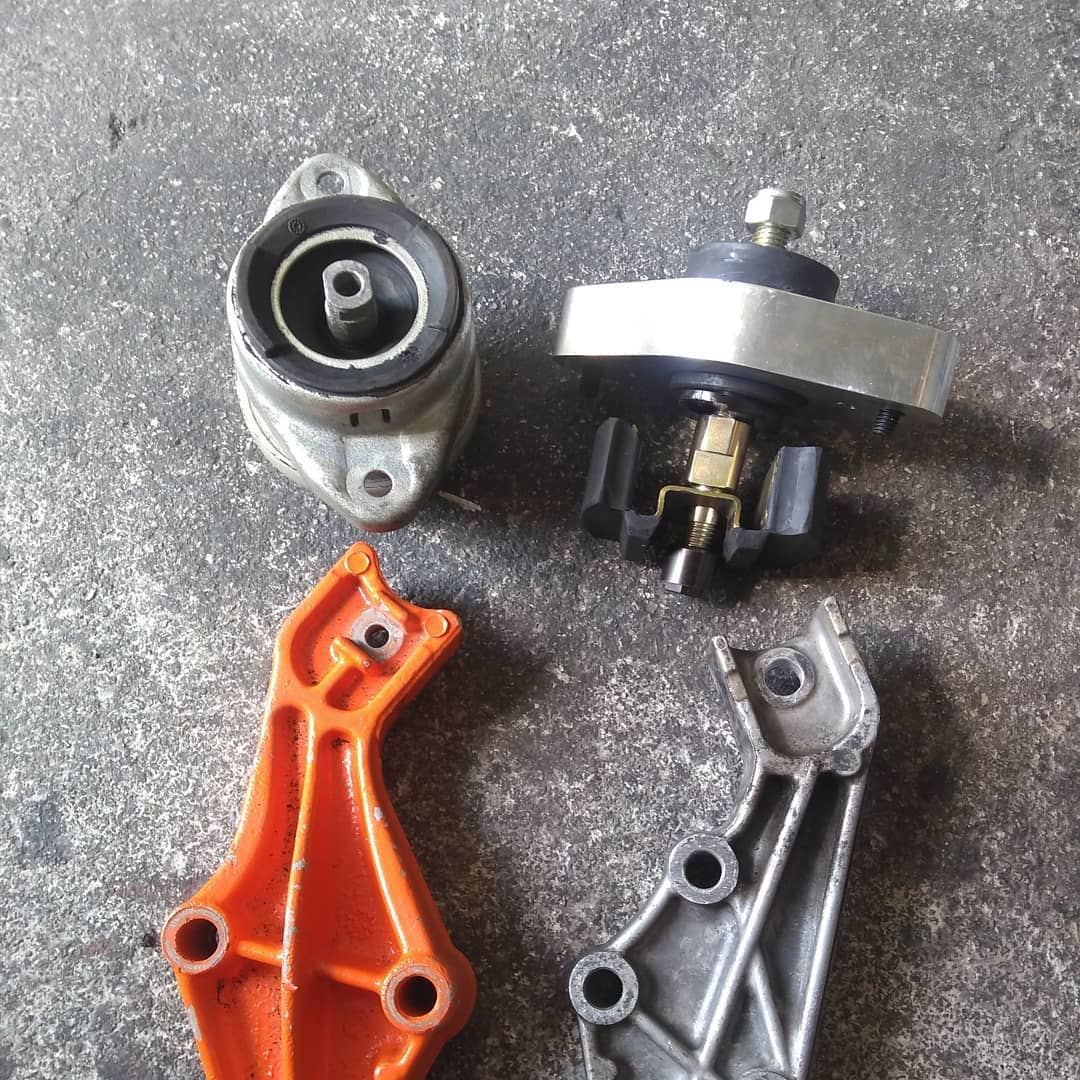 ZÁCHODOVÝ ZVON ALEBO RADIACA PÁKA?
Nie nadarmo sa hovorí, že sériové radenie v Citroene je veľmi podobné záchodovému zvonu. Jednak kvôli veľkému počtu spojov medzi radiacou pákou a prevodovkou, ktoré sú len priestorom pre väčšiu vôľu, ale samozrejme aj kvôli sériovým silentblokom motora, ktorých chodenie sa prejaví vo vôle v radiacej páke. Rovnako ako pri BMW, aj tu tvrdšie silentbloky pomohli k presnejšiemu radeniu, no celý problém radenia u tohto "Francúza" to nevyrieši. Po tvrdších silentblokoch motora odporúčame vymeniť aj tiahla za hliníkové / unibalové a konzolu radenia tiež vymeniť za unibalovú. Tým sa radenie v tomto aute stane výrazne príjemnejšie.
NEVÝHODY?
Ako už bolo písané, tým že je ako vo väčšine hatchbackov použitý 4 valcový motor, ktorého chod nie je dokonale "hladký", aplikácia tvrdších silentblokov môže spôsobiť prenos vibrácií do karosérie, hlavne za studena. Tým prechádzame k druhému problému, a tým je odťahovanie skrutiek na aute vplyvom miernych otrasov prenášaných do karosérie. Ak nechcete po každom závode, či jazde na hrane doťahovať pol auta, odporúčame použiť lepidlo na závity na všetky spoje v okolí motorového priestoru.